First Annual Dawson Drop


On June 11, 1995, my dad made his first static-line parachute jump. Amazingly, this was his 65th birthday! I jumped with him, this being my second jump. As a matter of fact, the whole fam damily jumped! My first jump was one year earlier on my 40th birthday. Over the winter I talked up the experience and dad said that if I could do it on my 40th, he could do it on his 65th. So we planned the "family outing".

We spent most of that beautiful June Saturday, in class learning how to arrive safely on the ground and what to do "if.....". After all of the appropriate training, we jumped. Dawsons that jumped were:

Dad (on his 65th birthday)
Roger (Dad's younger brother)
myself
Bill (my brother, his second jump)
Jim (my brother)
Dan (another brother)
John (yet another brother)
Lisa Marie (John's wife)
On the ground supporting us were: my mom Pearl, my wife Laura, Roger's wife Terri, Dan's wife Amy, and Dan's daughter Miranda.

Below is the front page of the Oshkosh Northwestern.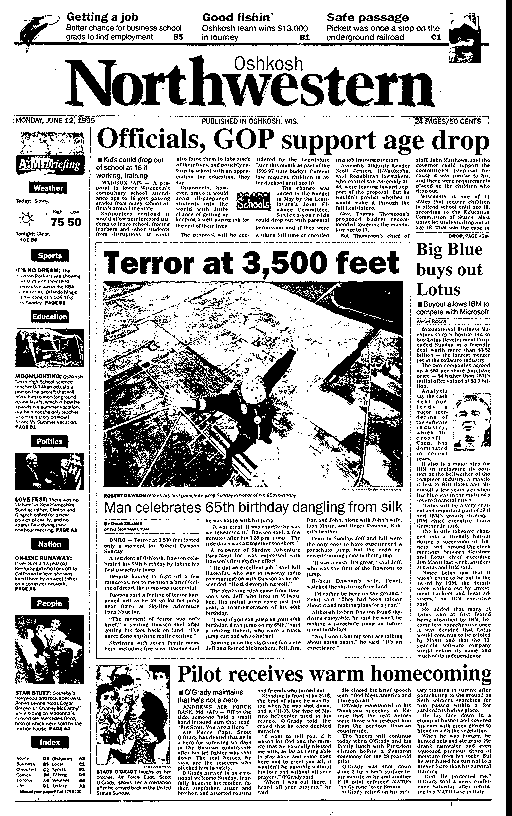 Man celebrates 65th birthday dangling from silk
By Doug Zellmer
of the Northwestern

OMRO -
Terror at 3,500 feet lasted only a moment for Robert Dawson Sunday. A resident of Oshkosh, Dawson celebrated his 65th birthday by taking his first parachute jump.
Despite having to fight off a few raindrops, not to mention a brief feeling of dread, the jump was successful.
Dawson said a feeling of terror happened just as he let go for his jump near Omro at Skydive Adventure Para-Naut Inc.
"The moment of terror was only brief," a smiling Dawson said after getting his feet back on land. "I've never done anything really exciting."
Skydiving with seven family members, including five sons, Dawson said he was happy with his jump.
"It was great. It was exactly the way we rehearsed it," Dawson said, a ' minutes after his 3:25 p.m. jump. "The ride down was all together too short.
A co-owner of Skydive Adventure Para-Naut Inc. was impressed with Dawson's first skydive effort.
"He did an excellent job," said Bill Hasenfus, who was in two-way radio communication with Dawson as he descended. "He did everything well."
The skydiving idea came from Dawson's son, Jeff, who lives in Milwaukee. His initial jump came just last year, a commemoration of his 40th birthday.
"I said if you can jump on your 40th birthday, I can jump on my 65th," said a smiling Robert, who wore a black jump suit and white helmet.
Joining in on the skydiving fun were Jeff and four of his brothers, Bill, Jim, Dan and John, along with John's wife, Lisa Marie, and Roger Dawson, Robert's brother.
Prior to Sunday, Jeff and Bill were the only ones to have experienced a parachute jump, but the eight received training prior to their jump.
"It was a rush. It's great," said Jeff, who was the first of the Dawsons to jump.
Robert Dawson's wife, Pearl, watched the skydiving from land.
"I'd rather be here on the ground," Pearl said. "They had been talking about it and making plans for a year."
Although Robert Dawson found skydiving enjoyable, he said he won't be making a parachute jump on subsequent birthdays.
"No, I won't, but my sons are talking about going again," he said. "It's an experience."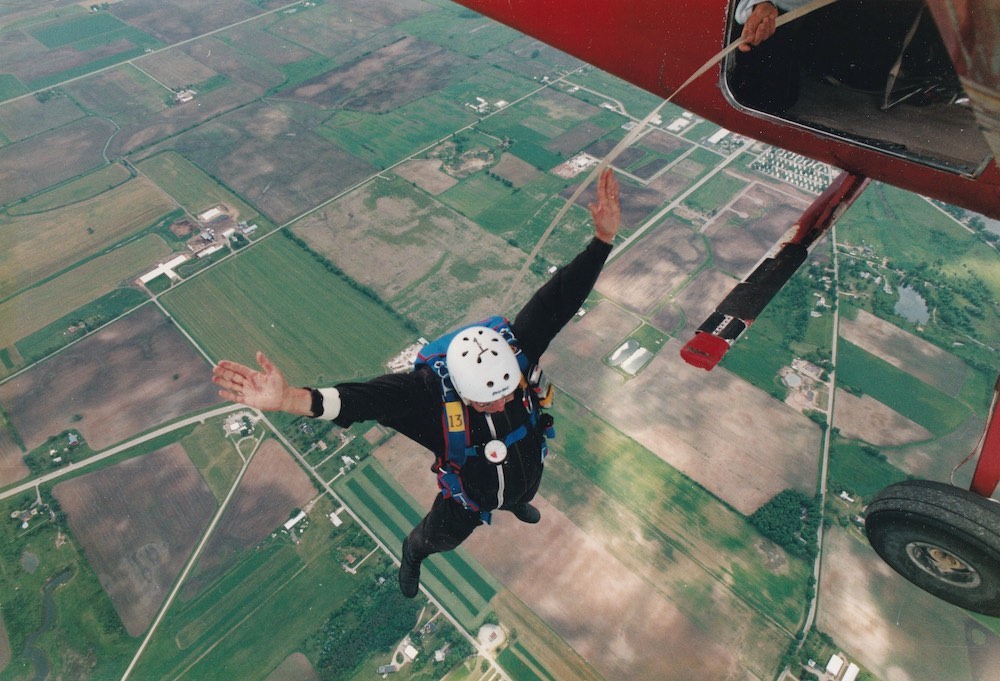 My jump just prior to Dad's