SANSSUIT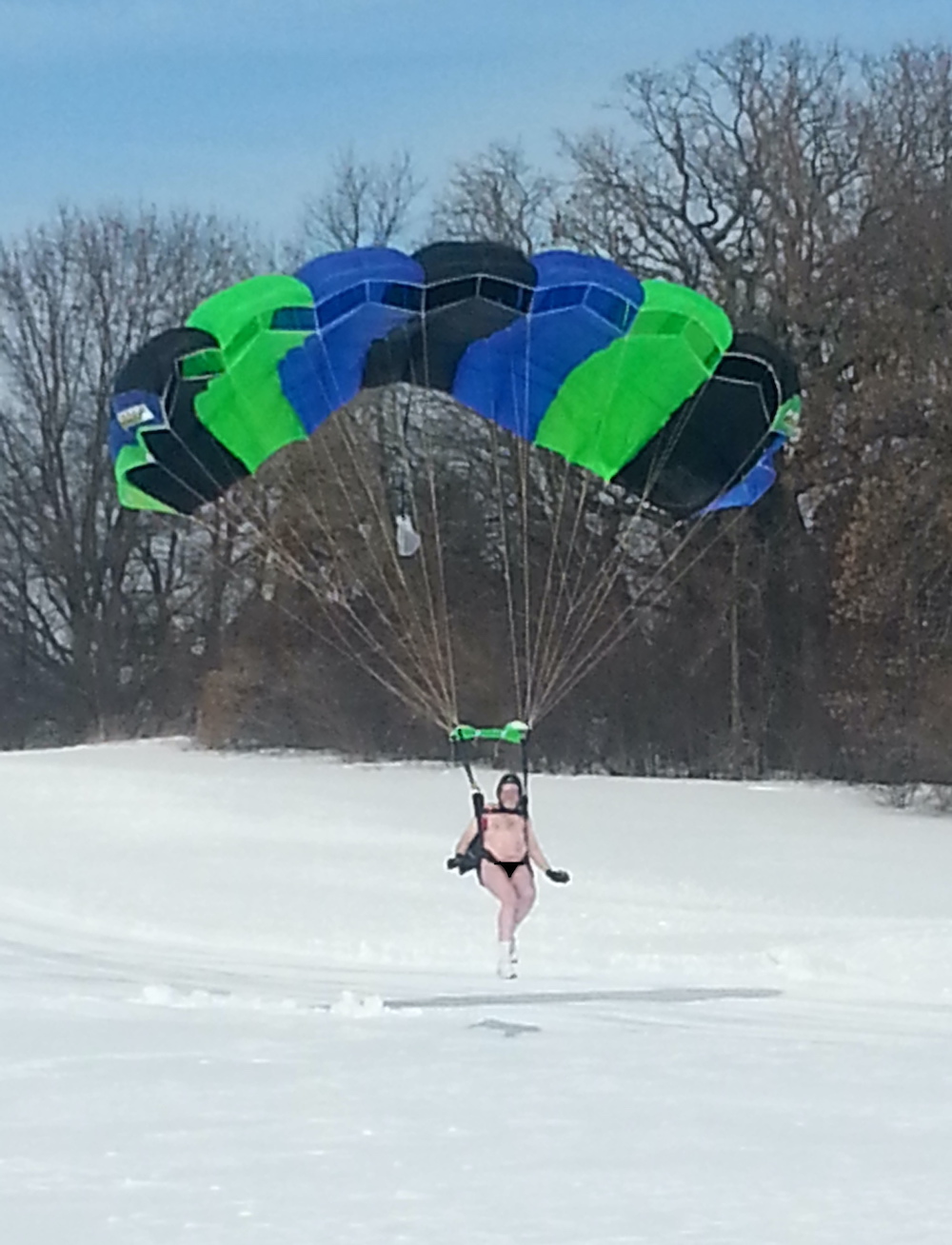 Skinny-dipping the sky!

For nearly as long as people have been jumping out of aircraft for fun they have taken the opportunity to jump "sans suit", that is to jump nekked. It eventually became a tradition to make your 100th jump nekked, a real rite of passage. Today, not everyone makes their hundredth jump without clothes but it is still a popular segment of the sport. It is estimated that 10-15% of the sport jumping population has made at least one nekked skydive.

I made my first nekked jump on my 100th skydive. It was fantastic! The freedom is unbelievable. I was just going to do it once but a couple years later a second opportunity arose, and then a month later a third. Since then I have jumped out of an airplane over 800 times - "sans suit". Obviously, I jump nekked more than the average jumper.

About 10 years ago, I was convinced of the need for an organization of nekked skydivers. I created the Society for the Advancement of Nekked Skydiving (SANS). One of its main functions is to recognize and record records for the nekked skydiving community. This includes state, nationals and world nekked skydiving records. The world SANSFormation record now stands at 19. I personally hold the world records for most number of nekked skydives and most consecutive months with at least one nekked skydive.

Wisconsin is not known for its tropical winter climate. That doesn't stop myself and others from enjoying winter SANS jumps. I have jumped at least once in every calendar month for over 20 years. The ground temperature on my coldest jump was 11°F.

Additionally, I am the only person to have jumped from a DC-9 commercial jet nekked and live.
Current Stats as of November 19, 2023
Jumps
985
Consecutive Months Jumped
22 Years, 3 Months
Freefall Time
5 Hours, 15 Minutes
Verticle Distance
982.3 Miles
% of Total Jumps
20.90%
Locations
20
States
7
Highest Exit Altitude
16,500'
Coldest Ground Temp
11°F
Individuals Jumped With
155
Gelid Jumps (≤ 32°F)
70
Tandem Jumps
1
Reserve Canopy Rides
1
Encasted Jumps
1
Aircraft Models
14
Balloon Jumps
2
Helicopter
2
DC-9 Jet
1
Biplane
1
Glider
1